In summer 2022, the City celebrated the groundbreaking for the Gipson Play Plaza – an inviting and inspiring public space for all ages with one of a kind play spaces, works of art, a civic plaza, fountains, and gardens. Amazing play features include a sensory maze, water play mountain, swing terrace, and adventure playground. A picnic grove will offer areas to cook out and recharge with family and friends. You'll also be able to get a snack and pull up a rocking chair at the repurposed historic House of Many Porches.
The Gipson Play Plaza is made possible in part by a generous $10 million gift from Pat and Tom Gipson. Construction is scheduled to start in fall 2022 and take two and a half years.
Construction
Construction of the Gipson Play Plaza is scheduled to commence the week of October 17, 2022 beginning with construction fencing being installed and contractor trailers moving on-site.  Construction is anticipated to take 27-months.
Check out the live feed of the progress below.
The 18.5-acre Gipson Play Plaza construction site includes the former hospital athletic field, area behind Brown, Clark, and Broughton Buildings, and an area at the top of Harvey Hill. Some roads and parking will no longer be accessible. Please see the map below for more information. 
View a larger PDF of the Construction Impact Maps.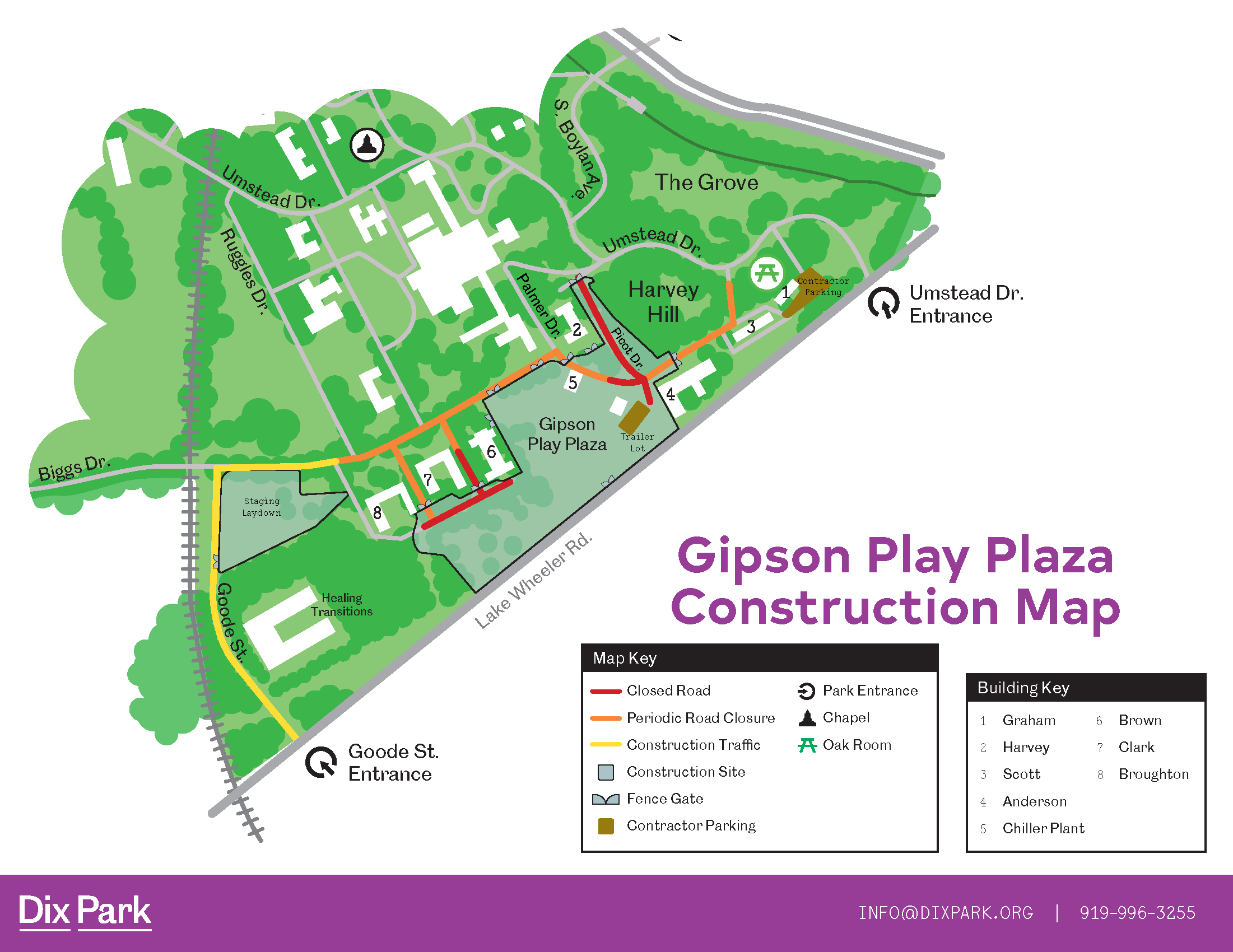 Project Phases
Pre-Design Services 
Schematic Design 
Design Development 
Construction Documentation   
Construction    <--- WE ARE HERE
Project Contact
Kate Pearce – Planning Supervisor 
919-996-4855
kate.pearce@raleighnc.gov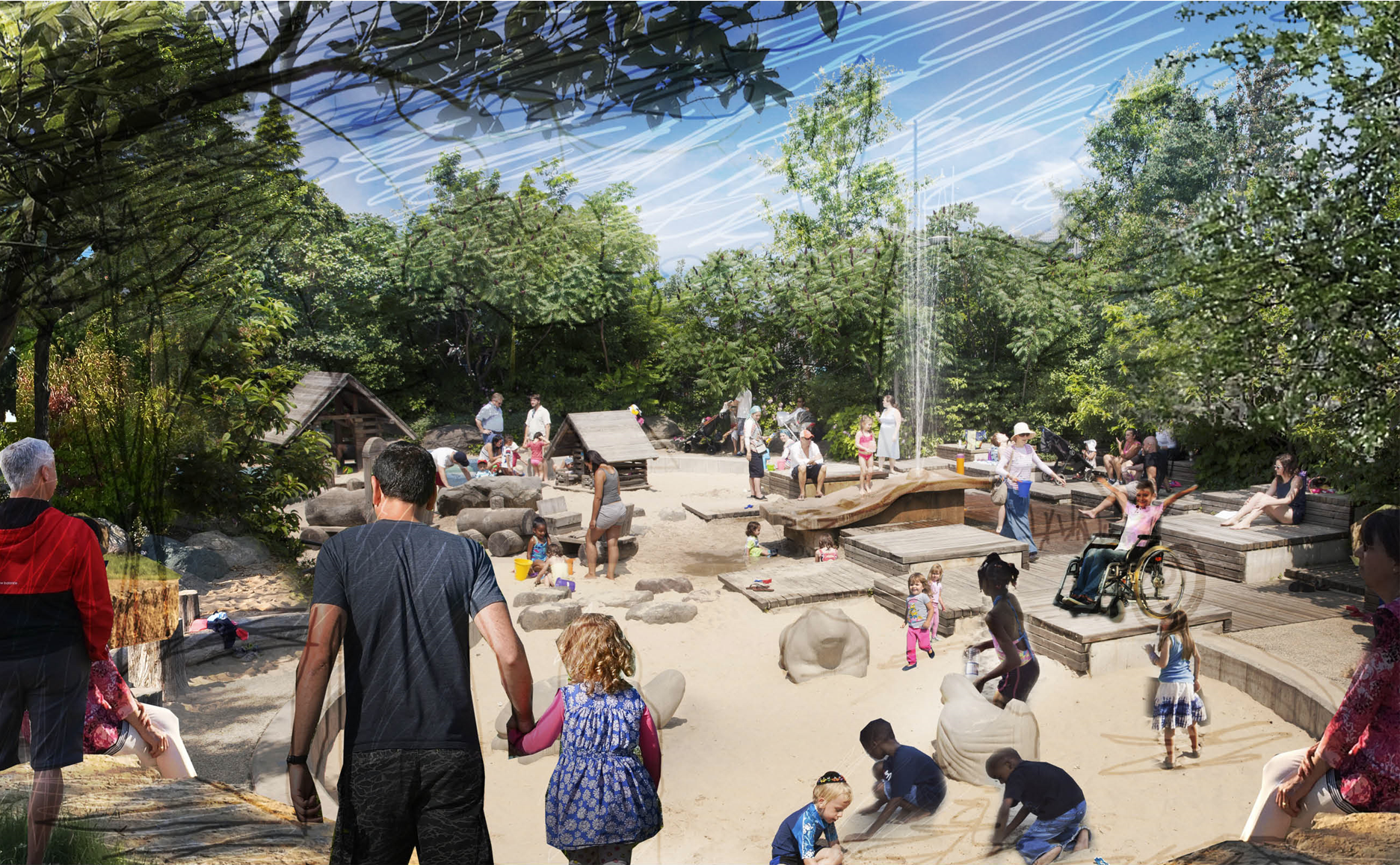 Project Documents
View Gipson Play Plaza presentations and documents from public meetings and the design process.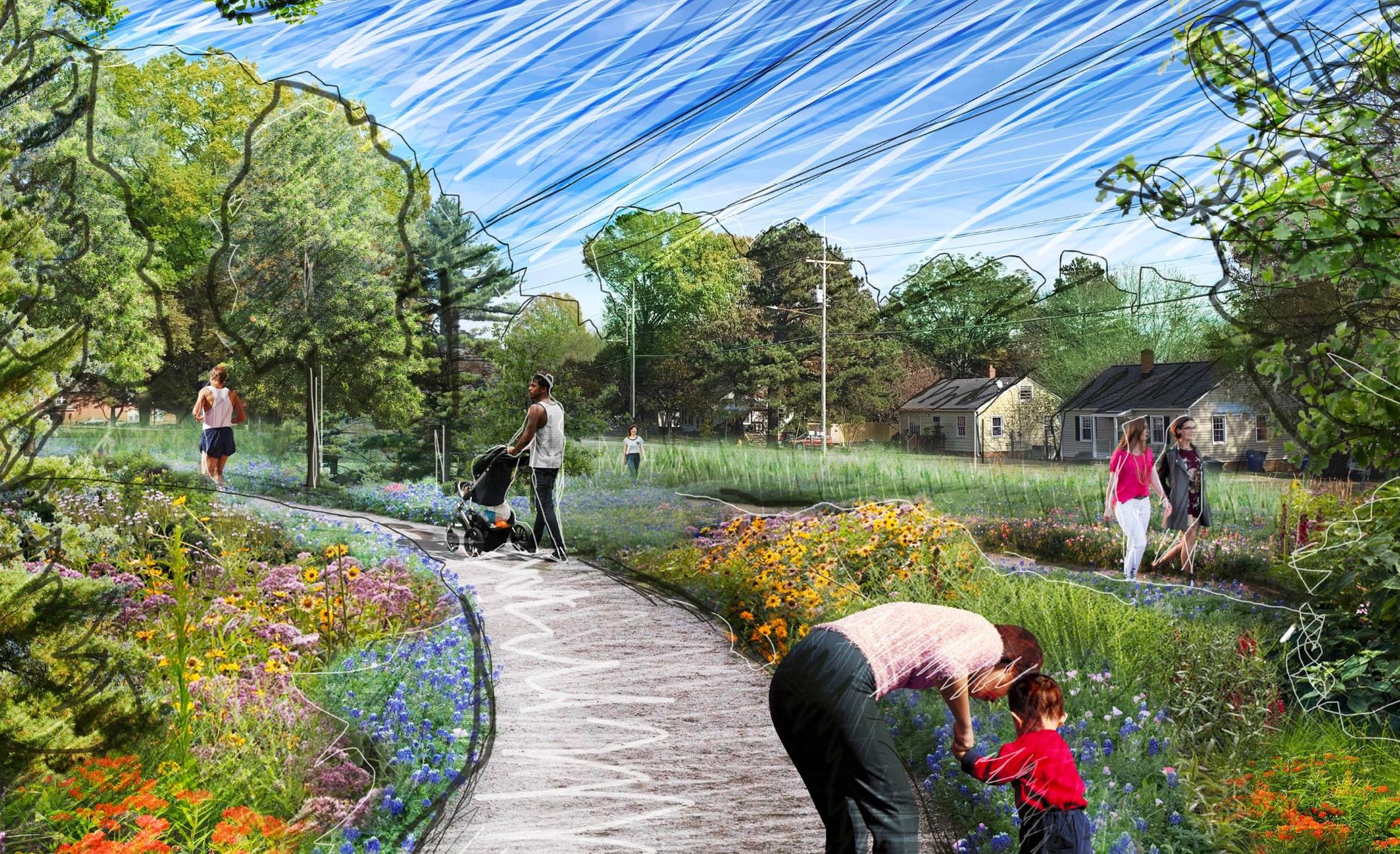 Adjacent City of Raleigh Projects
Dix Area Edge Study
The Dix Edge Area Study explored affordable housing, public transportation, and other growth factors near the park. Planning and Development Services Department at the City of Raleigh led the Dix Edge Area Study.  Final policy recommendations were delivered City Council in spring 2022 and the draft report is available to view.
Lake Wheeler Road Improvement Project
Initiated through the Dix Edge Area Study, the Lake Wheeler Road Improvement Project creates a more accessible and safer roadway for all along the section of Lake Wheeler situated between the Fuller Heights neighborhood and Dix Park, from South Saunders Street to Maywood Avenue. This fall, the City of Raleigh project team, led by Engineering Services and Transportation Departments, will be sharing a detailed design plan incorporating recent public feedback.