The Master Plan
In 2017, the City of Raleigh, in partnership with Dix Park Conservancy, embarked on the incredible effort to create America's next great public park through an innovative and extensive master planning process.
Michael Van Valkenburgh Associates and a team of consultants led the development of the plan and process that engaged over 65,000 area residents in a discussion of the future of the park.
On February 19, 2019, Raleigh City Council adopted the Dorothea Dix Park Master Plan and directed staff to develop a Phase 1 Implementation Plan.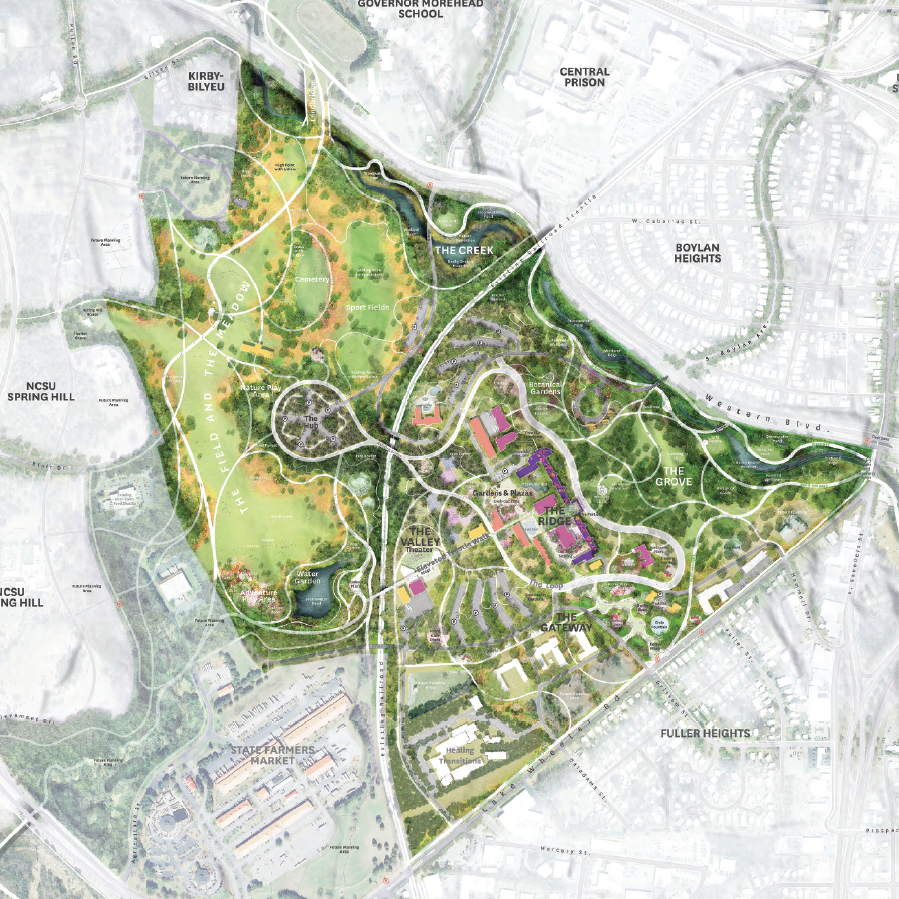 Meeting Reports + Records
See presentations from City Council Work Session along with meeting records and documents from the Master Plan process including Community Meetings, Executive Committee Meetings, Advisory Committee Meetings, and Workgroup Meetings.
Phase 1
During the summer and fall of 2019, staff made a series of presentations to Council on the Implementation Plan which outlined seven major projects in Phase 1.  These include the following:
 Creation of the plaza and play area
Enhancement of the Rocky Branch Creek and landfill area
Creation of a land bridge over Western Boulevard
Creation of a multi-use path to connect Rocky Branch to Walnut Creek Greenway
Restoration of the historic entry and buildings
Restoration and enhancement of the historic cemetery
Improvements to utility infrastructure
The proposed projects within Phase 1 embody the three Master Plan principles of: Open Up and Connect, Build from What is There, and Offer Something for Everyone. It is a collection of projects that connect the park to the greater community, repair and enhance the unique landscapes and structures that exist today and create a variety of spaces to offer multiple experiences for all park users. These projects improve the park's edges, create new entries and connections and speak to the dual nature of the site as a place that provides both natural experiences apart from the city and an active urban park experience for the 21st century.
As noted in the Master Plan, all great urban parks strike this balance between pastoral and active landscapes. And now, more than ever, the value of public spaces are critically important to the health and well-being of the community.